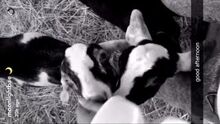 Ariana Grande adopted two black and white small goats on September 13, 2016. They live in a room in her house that is filled with hay. Their names are Mari and Heir.
Ariana has always loved goats. She had goats at her 23rd birthday party, she looked after a goat on an episode of Sam and Cat and she went to a Sanctuary that helps protects farm animals from being used for animal products. She tried to adopt goats back in 2014 but decided not to.
Ariana Facetimed Troye Sivan and showed him both of her goats
Ariana got her goats on August 17, 2016 after she was on the Greatest Hits Finale.
Ariana has been obsessed with her goats for a long time.
Ad blocker interference detected!
Wikia is a free-to-use site that makes money from advertising. We have a modified experience for viewers using ad blockers

Wikia is not accessible if you've made further modifications. Remove the custom ad blocker rule(s) and the page will load as expected.