Ad blocker interference detected!
Wikia is a free-to-use site that makes money from advertising. We have a modified experience for viewers using ad blockers

Wikia is not accessible if you've made further modifications. Remove the custom ad blocker rule(s) and the page will load as expected.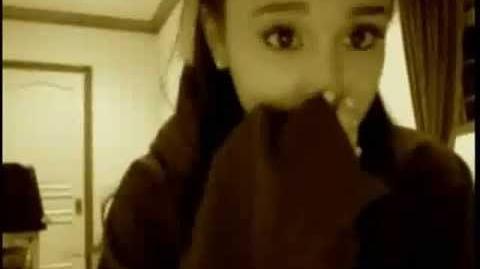 "Boyfriend Material" is a song performed by Ariana Grande, leaked on her live chat. The song was intended for her album Yours Truly, but ended up not making it to the album. The song was later purchased by f(x), a South Korean girl group. Ariana later released the studio version on May 14, 2014.
Release
On May 14, 2014 Ariana Grande released the official studio audio on Youtube. She tweeted that she had a surprise for her fans and added a link to the video in the tweet.[1] She released the song as a thank you for all of her fans constant love, support and dedication. Ariana was (temporality) locked out of her Youtube channel so she put the song on a new channel (which she later deleted).[2]
No More
When Ariana scrapped the song, the rights were sold to f(x), a K-pop group. The melody was turned into a song called "여우 같은 내 친구 (No More)," which is about a friend who will let go of her friends when a new boy comes along, as opposed to singing a love song about a boy. It was released on July 19, 2013 in their album The 2nd Album 'Pink Tape'.[3]
Lyrics
[Verse 1]
Now I've been looking for someone
Tryna find a right boy to wear on my arm
I must admit it, it's simply fitting
You were like a cut above the rest, that's why you're winning

[Pre-Chorus]
Every night when I close my eyes, I can see you, my perfect tie
And I never really thought my dreams would come true
Until I laid eyes on you, cause you know you are
[Chorus]
Boyfriend material, boyfriend material
That's what you're made of, it's written on your label
Boyfriend material, material
Want everyone to know you're my
Boyfriend material, boyfriend material
Boyfriend material, material
Want everyone to know

[Verse 2]
That you and your perfect smile
Are both timeless and never going out of style
For so many reasons you got it together
When I'm catching feelings, you make me look better

[Pre-Chorus]
Every night when I close my eyes, I can see you, my perfect tie
And I never really thought my dreams would come true
Until I laid eyes on you, cause you know you are

[Chorus]
Boyfriend material, boyfriend material
That's what you're made of, it's written on your label
Boyfriend material, material
Want everyone to know you're my
Boyfriend material, boyfriend material
Boyfriend material, material
Want everyone to know

[Bridge]
It's all the little things that you do makes me want to sing
By the way you're talking to me I can tell you've been listening to everything
And maybe it's the butterflies I get every time I hear your ringtone
And maybe it's cause every single text, boy, I told myself you are the one, boyfriend material

[Chorus]
Boyfriend material, boyfriend material
That's what you're made of, it's written on your label
Boyfriend material, material
Want everyone to know you're my
Boyfriend material, boyfriend material
Boyfriend material, material
Want everyone to know
References