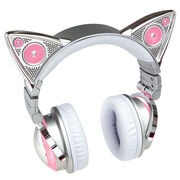 The Brookstone Cat-Ear Headphones are a Cat-shaped headphone.
In 2016, Ariana Grande teamed up with the company Brookstone, using the concept art of artist Wenqing Yan to create the cat ear headphones.
The headphones were announced in September 2016 and made available to preorder.[1]
They cost $150.
You can buy them here.
The headphones were later discovered to actually be designed by an artist under the name of Wenqing Yan. [2]
Reference
Edit
Ad blocker interference detected!
Wikia is a free-to-use site that makes money from advertising. We have a modified experience for viewers using ad blockers

Wikia is not accessible if you've made further modifications. Remove the custom ad blocker rule(s) and the page will load as expected.