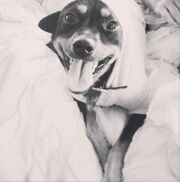 Coco Grande[1] is Ariana Grande's dog. Ariana has shown Coco in several YouTube videos and has tweeted about her lovely times along with her other dogs, Toulouse and Ophelia
As confirmed by Ariana, Coco is a "dachshund-German shepherd mix".
Also, Ariana has made a Twitter account for Coco, @MissCocoGrande, but is quite inactive on the account.
Ariana tweeted "Coco just somehow sent an email from my computer". She also tweeted a picture of her sitting next to her laptop, with the caption "Look how guilty she looks".
Coco appeared in Ariana's music video of her song "Put Your Hearts Up".
Ariana tweeted a picture of her and Coco.[2]
According to Ariana, Coco has the most basic dog name ever and she feels bad for naming her that.[3]
Ariana has a hat that has the words "Coco made me do it" on it.[4]
As stated by Ariana, Coco has a prominent underbite.[5]
In a YouTube video titled "Coco Breaks it Down", Ariana interviewed Coco, asking, "Do you like the new music I'm writing?" and other music-related questions. Ariana intended interviewing people for her vlog (video blog) this to be a regular hobby, but there was never another episode after Coco Breaks It Down.
Ariana created an Instagram account for Coco and her two other dogs Toulouse and Ophelia. The account is named "Opheliatoulouseandcoco".
"The day you left me, an angel cried"
To view the Coco gallery, click here.
References
Edit