"
Have You Ever Seen A Princess Be A Bad Bitch?
"

– Dangerous Woman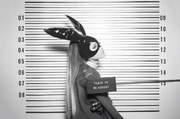 Name: Dangerous Woman
Gender: Female
First Appearance: March 2nd, 2016 in a promotional picture relating to the album.
Fashion: Black, latex, masks, bunny ears, diamonds, thigh-high boots, high heels, chokers.
Personality: Dominant, strong, feminine, powerful, feminist,
Featured in: Dangerous Woman
Dangerous Woman is the first and only known character of Ariana Grande.                                             
She was introduced on her Ariana's third studio album 'Dangerous Woman'. Ariana announced the album name change on SnapChat when she said the name 'Dangerous Woman' linked with her growth as an artist more than 'Moonlight'. Without the name change of the album, the development of the character dangerous woman would not have happened.                                             
Ad blocker interference detected!
Wikia is a free-to-use site that makes money from advertising. We have a modified experience for viewers using ad blockers

Wikia is not accessible if you've made further modifications. Remove the custom ad blocker rule(s) and the page will load as expected.