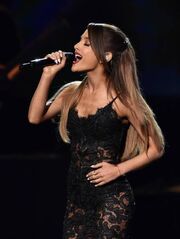 This page records the discography of Ariana Grande. During the run of Victorious, Ariana was included on many of the songs from the show, but was only listed as a featured artist on two: "Give It Up", performed by her and Elizabeth Gillies, and "L.A. Boyz" performed by her and Victoria Justice.[1]
On December 11, 2011, Ariana released her first official single for her debut album called "Put Your Hearts Up". Following the release, the song was scrapped and deleted from her "Vevo" channel.
She released her debut album Yours Truly on August 30, 2013. It was preceded by three singles: "The Way", "Baby I", and "Right There".
In 2014, Ariana released the singles "Problem", "Break Free" and "Love Me Harder" from her sophomore album, My Everything which was released in August of that year.
In 2015, Ariana released the fifth single for her sophomore album, "One Last Time" in February. Ariana released her supposed lead single for her third album, "Focus" in fall of 2015. Ariana Grande plans on releasing an album titled Moonlight.
In 2016, the album is re-titled "Dangerous Woman" and released on May 20, 2016 with "Focus" only on the Japanese deluxe-version.The lead single album of the same name was released in spring 2016. 4 other songs: "Be Alright", "Let Me Love You", "Into You", "Side To Side" are all released as YouTube Videos. "Be Alright" is the only song from her vevo channel without a music video.
Singles
As a lead artist
As a Featured Artist
Albums
EPs
Other studio recorded songs
Music videos
References
Ad blocker interference detected!
Wikia is a free-to-use site that makes money from advertising. We have a modified experience for viewers using ad blockers

Wikia is not accessible if you've made further modifications. Remove the custom ad blocker rule(s) and the page will load as expected.