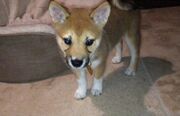 Fawkes is Ariana Grande's fourth dog.
Fawkes is a Shiba Inu.
Ariana adopted Fawkes while she was in Florida in July 2014.[1]
Her full name is Fawkes Kitty.[2]
Fawkes is sweet, daring, brave, fierce, and a diva.
Ariana posted a video of Fawkes playing with a ball.[4]
In July 2015, Ariana's brother Frankie confirmed that Fawkes no longer lives in Ariana's house because she wasn't getting along with the other dogs.[5]

In a Snapchat video, Ariana confirmed Fawkes lives with a friend of theirs because Fawkes wasn't getting along with the other dogs and she would get to see Fawkes soon.
"I never knew you could moonlight in your hands, til the night I held you"
To view the Fawkes gallery, click here.
References
Edit
Ad blocker interference detected!
Wikia is a free-to-use site that makes money from advertising. We have a modified experience for viewers using ad blockers

Wikia is not accessible if you've made further modifications. Remove the custom ad blocker rule(s) and the page will load as expected.