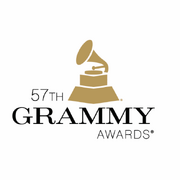 The GRAMMY Awards (also known as the Gramophone Awards) is an annual award show hosted by the Recording Academy that recognizes musicians for outstanding achievements in the music industry. Ariana Grande has been nominated for 4 awards.
57th GRAMMY Awards
Edit
The 57th GRAMMY Awards were held on February 8, 2015, at the Staples Center in Los Angeles, California. Ariana Grande was nominated for 2 awards for her single "Bang Bang" and her sophomore album, My Everything. For the red carpet, she wore a white dress with silver highlights. She took Big Sean as her date, marking the first time they have gone to a red carpet together.
She also performed "Just a Little Bit of Your Heart," though it is not one of her singles. During the performance, she wore a black gown and stood on a raised platform. The background was lit by blue and purple light, and towards the end smoke machines created smoke around the base of the stage.
"I never knew you could moonlight in your hands, til the night I held you"
To view the GRAMMY Awards gallery, click here.
Ad blocker interference detected!
Wikia is a free-to-use site that makes money from advertising. We have a modified experience for viewers using ad blockers

Wikia is not accessible if you've made further modifications. Remove the custom ad blocker rule(s) and the page will load as expected.