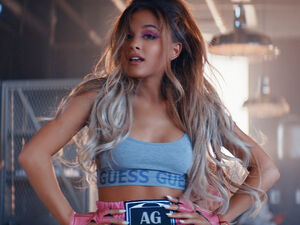 Guess is an American clothing brand and retailer. In addition to clothing for both men and women, Guess markets other fashion accessories such as watches, jewelry, perfumes, and shoes. The company also owns the line Marciano.
They sponsored Ariana Grande and Nicki Minaj's video for Ariana's third single, Side To Side.
Along with Republic Records, they have also formed Guess Music, which is a high energy platform that pairs two industry powerhouses to bring together the world of fashion and music.
Ad blocker interference detected!
Wikia is a free-to-use site that makes money from advertising. We have a modified experience for viewers using ad blockers

Wikia is not accessible if you've made further modifications. Remove the custom ad blocker rule(s) and the page will load as expected.