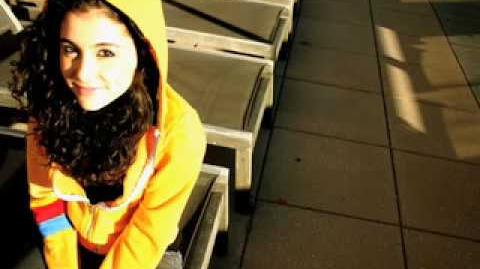 "Higher" is an unreleased demo performed by Ariana Grande. Ariana released the song unprofessionally on her YouTube channel on October 22, 2008. This song was also included in her demo CD alongside with "Let It Rain."
Ariana has said this song was too mature for her and "sexual" because she recorded it when she was 14.
Live performances
Edit
Ariana performed on August 14, 2013 while on The Listening Sessions in New York City.[1] Ariana also sang part of the song during a live stream in December 2013.[2]
[Intro]
Higher... uh huh

[Verse 1]
Been running 'round in circles tryna find the end
Bumped into this shy guy while chilling with my friends
He's eyeing me, sizing me, makes my body weak
He's bringing out the freak in me

Only been a minute since you came in
And changed my life
When I get around you, I fell this spark ignite

[Chorus]
I got that fire
You got me open
You dig it deeper
We take it higher

I got that fire
You got me open
You dig it deeper
We take it higher

[Verse 2]
Crazy, what we're doing- living, letting go (go, go)
Riding, having good times and no one has to know
He's eyeing me, sizing me, makes my body weak
He's bringing out the freak in me

It's only been a minute since you came in
And changed my life
When I get around you, I fell this spark ignite

[Chorus]
I got that fire
You got me open
You dig it deeper
We take it higher

I got that fire
You got me open
You dig it deeper
We take it higher

[Bridge]
We got that jam, make them dance
Make them lose their minds, mmhmm
We got that jam, make them dance
Make them lose their minds, oh yeah

We got that jam, make them dance
Make them lose their minds, uh huh
We got that jam, make them dance
Make them lose their minds yeah, yeah, yeah

[Chorus]
I got that fire
You got me open
You dig it deeper
We take it higher

I got that fire
You got me open
You dig it deeper
We take it higher

[Chorus]
I got that fire
You got me open
You dig it deeper
We take it higher

I got that fire
You got me open
You dig it deeper
We take it higher
References
Edit