Jai Brooks (born May 3, 1995) is an Australian YouTube comedian, prankster, stunt performer and entertainer. He dated Ariana Grande since August 2012 until August 2013, the two finally met in New York City on December 30, 2012. Jai has a twin brother named Luke Brooks and an older brother names Beau Brooks. He is part of a group called the Janoskians (Just Another Name Of Silly Kids In Another Nation Skip) with 4 other friends (Luke Brooks, Beau Brooks, James Yammouni, Daniel Sahyounie) who have been posting comedy videos on YouTube since September 2011. Currently, their channel has over 1.4 million subscribers and over 100 million views worldwide. 
Relationship with Ariana
Jai met Ariana through Twitter in July 2012.[1]
Jai Brooks, and his twin brother Luke, started a competition to see which one could get to date Ariana Grande. They started the hashtag #JaiVsLukeForAriana which trended on Twitter.[2]
Ariana's mom, Joan Grande, clicked on the hashtag and then started to watch Janoskian videos.
Joan thought the boys were really funny so showed the videos to Ariana and told her to respond to one of the boys.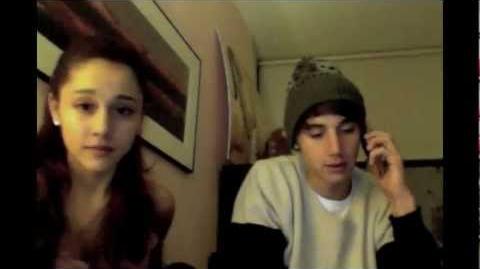 Ariana DMed her number to Jai on Twitter because she knew that Luke wasn't actually sincere.
They met in person fo the first time on December 30, 2012.
Ariana and Jai Brooks had their first kiss as soon as they met.[5]
Frankie Grande filmed Ariana and Jai's first meeting. 
Jai tripped when he first met Ariana, some said it was a way to say, "He was falling head-over heels with her", but others say it was a goofy stunt; this however is untrue; he said on Zach Sang and the Gang Show, it was a genuine mistake. 
Frankie filmed himself being happy in the New Years Eve vlog on his YouTube channel, and when everyone yelled "Happy New Year", if you pause the video, you can see Ariana and Jai kissing each other.
On January 5, 2013, Ariana and Jai went bowling and Ariana won.[6]
Jai gave Ariana a charm bracelet.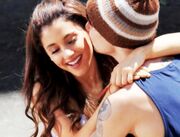 Jai gave a surprise visit to Ariana on her "The Way" music video set in February.
Ariana and Jai briefly broke up, in February 2013, due to the long distance, but, confirmed a month later, that, they were back together.[7]
Jai came to the set where Ariana and MIKA filmed the music video for "Popular Song".
In the Wango Tango video of Ariana performing, you can also see obviously Jai looking proud from the side, along with Ariana's mother.
Ariana tweeted a picture of the sloth Lola saying, "I might be the only girlfriend in the world that would surprise her boyfriend with another girl on his birthday<3 This is Lolaaaaa".
On a live-chat, Ariana said she might marry Jai, but said his name wrong. 
Jai would often send sloth memes to Ariana via Twitter. 
Jai wrote a beautiful speech, on Instagram, about him being thankful he has Ariana.
Jai and Ariana posted videos, on Youtube, of them doing each others makeup.
They were kissing at the airport.
Jai visited Ariana on the set of her "Baby I" music video in late July 2013. There are pictures of them hugging and kissing on set.
In Ausust 2013, Jai and Ariana broke up. Ariana revealed in an interview with Complex that Jai broke up with her over a text message the opening night of her The Listening Sessions Tour right before she was about to go on stage. [8]
On October 7th, less than two weeks after it was confirmed Ariana was dating Nathan Sykes, Jai accussed Ariana of cheating on him with Nathan. He claimed that Nariana began while he was still dating Ariana.[9]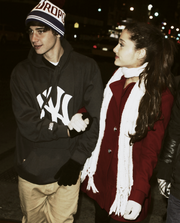 Ariana denied the rumors saying that they were completely false, hurtful, and shocking, but she wants to move forward and forget about it.[10]
There have recently been hints of Jai and Ariana being back together, when fans first heard Jai's voice in one of her Instagram videos, and things such as the two tweeting love emojis, and Ariana tweeted loads of love lyrics, to which Jai responds indirectly.
Ariana and Jai refollowed each other on Twitter and Instagram, and she also recently refollowed Jai's older brother.
Ariana posted an Instagram video on March 24, 2014 and many fans said they can hear Jai laughing.
A fan asked Ariana on Twitter how she was on April 18 and she said, "tired excited and in love how r u".[11]
On April 29, 2014 Ariana did an interview where she said she loves a bad boy, someone who is funny, and who has a lot of tattoos. Jai fits all of these categories. She then said she tried to date a good boy for a little bit but that it didn't work. This is most likely referring to Nathan Sykes.[12]
Gallery
"You call for me, I'm right there."
To view the Jai Brooks gallery, click here.
References
External links