James Thomas "Jimmy" Fallon is an American comedian, television host, actor, singer, writer, and producer. He is known for his work in television as a cast member on Saturday Night Live and as the host of late-night talk show The Tonight Show Starring Jimmy Fallon.
Television
Edit
Jimmy returned to television as the host of Late Night With Jimmy Fallon on 2009 and later transitioned his program to become the host of the longest-running talk show, The Tonight Show Starring Jimmy Fallon.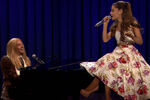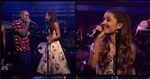 The first time Ariana appeared on Late Night was in June 2013 to perform her debut single "The Way" along with Mac Miller who is featured on the song.[1]
In September 2013 Ariana appeared again to promote the release of her debut album, Yours Truly. She performed "Broadway covers" of hip-hop songs with Jimmy including "99 Problems," "Insane in the Brain," and "Thrift Shop."[2]
Ariana performed her song "Last Christmas" on Thanksgiving Day 2013.[3]
Ariana was featured on Jimmy Fallon and The Roots performing "We Are The Champions".
Ariana appeared on the special Super Bowl telecast to perform her song "
One Last Time
" for the first time live in February 2015.
[4]
She also appeared in an a cappella cover of "We Are The Champions" with many other celebrities.
[5]
In March 2015, Ariana performed a parody skit with Jimmy called "Ew!" where they act like bratty pre-teen girls.[6] She also sat down to talk with him (making it her first talk show interview) and did an impression of Céline Dion.[7]
In September 2015, Ariana came to The Tonight Show to promote her debut fragrance ARI by Ariana Grande and also revealed the name of her new single ("Focus") along with its release date. Ariana also played a game called "Wheel of Musical Impressions" where she had to sing children's songs to the style of a randomly picked artist.[8][9]
In April 2016, Ariana came to The Tonight Show to promote her album
Dangerous Woman
. She also brought her "winking dog"
Toulouse
and her whole family where her
Nonna
showed how much she loved Jimmy Fallon and also the video Snapchat of her mother
Joan Grande
.
[10]
Ariana and Jimmy performed on a skit called "Lip Sync Conversation" where all of their conversations are lip-synced.
[11]
She also performed her lead single "
Dangerous Woman
" as the last act of the show.
[12]

On July 2016, A Snapchat duet with Jimmy Fallon is featured on the show.
[13]
On September 2016, Ariana featured on The Tonight Show for the third time. She
promoted her second fragrance Sweet Like Candy. Ariana and Jimmy played the "Best Friend Challenge" to test how they know each other.[14] She also performed her third single off Dangerous Woman, "Side To Side" as the last act of the show.

Ariana was supposed to appear on Jimmy Fallon on February 22, 2017 as a musical act and guest but it was cancelled.
References
Edit