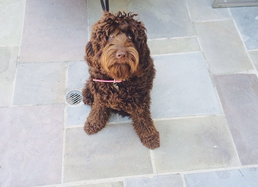 Ophelia is Ariana Grande's chocolate labradoodle dog, adopted on September 27, 2013.[1]
Trivia
Ariana uploaded a picture on Ophelia on Twitter on September 29, 2013.[2]
Ophelia is Ariana's third dog, the first was Coco and the second was Toulouse. Although it is possible that she may had other dogs in her childhood years.
Aaron Simon Gross, who is one of Ariana's close friends, actually named Ophelia. Ariana thought the name was funny because it sounded very old and proper so she kept it.[3]
Ophelia can be seen in Ariana's "Right There" music video at 1:06.
In May 2014, Ariana tweeting that Ophelia was turning blonder and that she was going to miss Ophelia's puppy coloring.[4]
On the Sam & Cat episode #Pilot, Cat Valentine says her name is Ophelia.
Ophelia was born on July 27, 2013.[5]
Gallery
"I'll give you all I have and nothing less, I promise."
To view the Ophelia gallery, click here.
References
Ad blocker interference detected!
Wikia is a free-to-use site that makes money from advertising. We have a modified experience for viewers using ad blockers

Wikia is not accessible if you've made further modifications. Remove the custom ad blocker rule(s) and the page will load as expected.