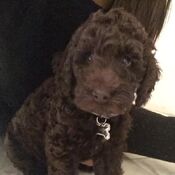 Sirius is Ariana Grande's sixth dog.
Grande announced on January 31, 2015 that she adopted Sirius.[1]
Grande posted a picture of Sirius with the caption, "y so sirius".[2]
His full name is Sirius Black, named after a character from Harry Potter.

Sirius is also the name of the "Dog Star." It is the brightest star in the Earth's night sky.

Sirius went on tour with Grande during her Honeymoon Tour along with Toulouse.[3]
Joan Grande confirmed on Twitter that Sirius was now living with her.[4]
"The day you left me, an angel cried"
To view the Sirius gallery, click here.
References
Edit