Ariana Grande has had a series of Snapchat accounts and posts regular updates on them.
Usernames
Edit
- moonlightbae, this account is currently in use and frequently updated. It was created in 2015.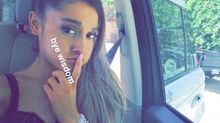 - areanuh, this account was used throughout 2014 and was then deleted for unknown reasons.
- ArianaGrandeMusic, it is yet to be decided if this account is real or not but it has been rumoured to been used in 2013 and 2014.
- Ariana also had a Snapchat in early 2013.
- buttmunch4000, this was Ariana's first ever account. She did not want to make an account, however, she had been persuaded to by her best friend, Alexa. Ariana posted two snaps from the account before its demise.[1]
My Story
Edit
Ariana posts frequently on her My Story on Snapchat, from parties with her brother to iHeart Radio performances.
Ariana accidently leaked the perfume box for her perfume on her Snapchat. Luckily everything worked out.
Ariana also has accidently posted snippets of her new album "Dangerous Woman" and deleted them soon after realising what she had posted.
Ad blocker interference detected!
Wikia is a free-to-use site that makes money from advertising. We have a modified experience for viewers using ad blockers

Wikia is not accessible if you've made further modifications. Remove the custom ad blocker rule(s) and the page will load as expected.