Strauss is Ariana Grande's seventh dog. She adopted him on October 7, 2015, in Tulsa, Oklahoma.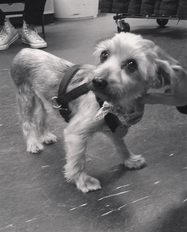 Before Ariana Grande's concert at BOK Center SMG Tulsa staff members surprised Grande at her meet and greet with eight dogs from
ARF Tulsa, the Animal Rescue Foundation of Tulsa
. Ariana instantly fell in love with Strauss and ended up adopting him.
Joan Grande adopted the dog Typhoon.
DJ Dubz adopted Beethoven by the end of the night.