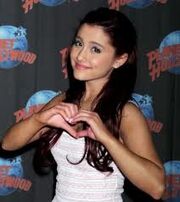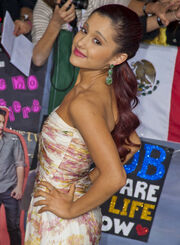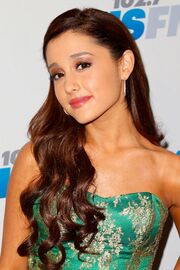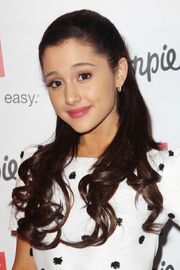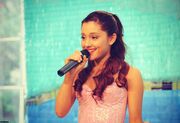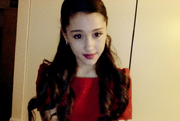 She wants to collaborate with Will.i.am.[1]
Ariana had a "Dinner with Ariana" in New York on November 23, 2012.[2]
Ariana held another "meet and greet" in Arizona, Arrowhead Towne Center Glendale on November 18, 2012. [3]
Ariana had a live chat with Colleen Ballinger and her brother Frankie Grande around midnight on November 12/13, 2012.
Colleen Ballinger is NOT Ariana's vocal coach. As previously mentioned in Colleens live comedy shows for humor.
Ariana and Harry Styles have each other's numbers, they keep in touch. She has also mentioned him in some of her livestreams with Liz Gillies.
Ariana went with her family to the Thanksgiving Day Parade in New York 2012 where Jennette McCurdy also performed[4] (though they never actually got to see it and ended up watching it on TV[5]).
Ariana knows how to dance the "Gangnam Style" dance. [6]
Ariana went to the Madonna concert with her mom in Vancouver on September 29, 2012.
Ariana performed at The Big Fresno Fair on October 13, 2012.
She loves Nutella and can apparently "eat a tub to herself".
Ariana held a free "Meet & Greet with Ariana" in The Westin Grand, Vancouver on October 28, 2012.
Ariana performed on the Annual Tree Lighting in LA on Nov 10, 2012.[7]
Ariana starred in the stage production A Snow White Christmas in December 2012.[8]
Ariana attended Matt Bennett's 21st birthday.[9]
Ariana Grande had an ask.fm but has since deactivated it. Her username was arianagrandefromfriday2nextfriday.
Ariana has to make her voice way higher to play Cat Valentine.
Ariana is allergic to shellfish, bananas, cats and certain medicines. She is also allergic to dark chocolate.[10]

She is not entirely sure she is allergic to shellfish, but the women in her family are, so she does not take any chances.[11]

Eric Vetro is her vocal coach. He is also Katy Perry's vocal coach.[12]
Ariana's favorite colors are periwinkle blue, marshmallow white, sea foam green, red and coral/pale pink so basically pastel colors.
Broadway in South Africa, the organization that Ariana supports (it is co-founded by her brother, Frankie) used her single, "Put Your Hearts Up" as their theme song for 2012.
Ariana would marry Cookie Monster if she could choose any fictional character to marry. [13]
Ariana's favorite animals are dolphins, penguins and whales. [14]
She accidentally leaked her own number on a live chat.
Ariana prefers high heels to sneakers.
Things that she like to do in her free time are spend time with her friends and family, play video games, and watch old movies.
Ariana wrote a news article about bullying. Click here to read it.
Her favorite Victorious episodes are "Survival of the Hottest", "Prom Wrecker" and "Ice Cream For Kesha".
Her favorite shows are Gossip Girl, Top Model and Project Runway.[15]
On, 7/28/2012, Justin Bieber tweeted about Ariana's cover of "Die In Your Arms" that she uploaded on her YouTube channel, Osnapitzari. They are now great friends as they are under the same management.
Ariana started filming for Sam & Cat on September 18, 2012.
Ariana's favorite One Direction song is "One Thing".
Ariana and Liz are extremely close. They stay up late together, and sing together, as shown multiple times on Ariana's YouTube channel and their tweets.
Jennette McCurdy accidentally made Ariana's phone number public and later apologized.
References
Edit