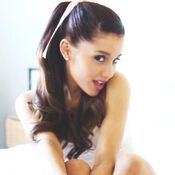 Her debut tour was called The Listening Sessions.
Ariana's debut album, Yours Truly debuted at No. 1 on the Billboard 200.
She had a Harry Potter themed 20th birthday party.[1]
Her single "The Way" went double platinum.
Ariana Grande has also dated Nathan Sykes, a member from the band The Wanted. They started dating in late September 2013.[3] In December 2013, Ariana Grande and Nathan Sykes broke up.[4]
Ariana was in a relationship with Australian Jai Brooks, from the Janoskians since August 2012. He flew across the world to meet Ariana and family in New York for New Years. In February 2013 they briefly broke up due to the long distance; however, less than a month later confirmed they are back together.[5] On August 16, 2013, Ariana Grande and Jai Brooks broke up again.[6]However, they got back together in early 2014.[7]
She describes herself as an L.A. girl.[10]
She never babysat a child in her life, though on the Nickelodeon show Sam & Cat she plays a babysitter.
Ariana said that she likes Demi Lovato's single called "Heart Attack". She also said that Demi sounded amazing in the song.[11]
Ariana was in a TV Nickelodeon movie called Swindle, along with several other Nick stars where she portrayed a very peppy cheerleader named Amanda Benson.[12]
Ariana is studying Spanish (which became affective as she made another version of "The Way" in Spanglish).
Ariana loves to wear dresses especially by American designer Kenley Collins.
On October 1, 2013 she reached 10 million followers.
Her song "Baby I" was originally made for Beyonce to sing.
References
Edit
Ad blocker interference detected!
Wikia is a free-to-use site that makes money from advertising. We have a modified experience for viewers using ad blockers

Wikia is not accessible if you've made further modifications. Remove the custom ad blocker rule(s) and the page will load as expected.