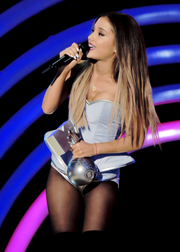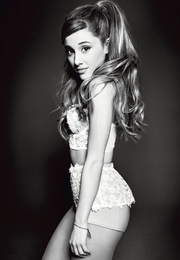 Ariana broke three toes once because she slipped on Ophelia's pee while at a party.
On March 27, 2014 Ariana said she wanted her fanbase to be called "the loves" rather than "Arianators". Since then she frequently tweets to her fans calling them "my loves". [1]
Her second album My Everything, debuted at No. 1 on the US Billboard 200.
She got her wisdom teeth pulled out on April 14, 2014.[2]
Ariana performed in front of President Barack Obama and Michelle Obama on March 6, 2014.[3]
She recorded a song for The Hunger Games: Mockingjay soundtrack with Lorde and Major Lazer called "All My Love."
Her song "Break Free" was originally written for Austin Mahone.
References
Edit
Ad blocker interference detected!
Wikia is a free-to-use site that makes money from advertising. We have a modified experience for viewers using ad blockers

Wikia is not accessible if you've made further modifications. Remove the custom ad blocker rule(s) and the page will load as expected.