Happy Saturday!!
Hi sorry i havent wrote a blog yesterday but thats the past now.This blog is about Ariana anounces her new song called Last Christmas!' 
Song
Okay now on Wednesday 20th November 2013 Ariana anoucced that her new song is out and its called Last Christmas.She added a few verses on to it and maked it more boppy and hoppy.Everyone loves it and on Hollywood hot wire they compared who's better,Taylor swift's cover of Last Christmas or Ariana's.
Googles Information.
Wonders what Nathan Sykes' jingle bells look like*
If you're still walking around in your flip flops, shades and factor 30 in a desperate bid to cling onto summer, give it up. Stop trying to make the sun happen, it's not gonna happen. Have you not *seen* all the lights and fit boys in a variety of reindeer-based knitwear? It's bloody

CHRISTMAS

, for gahd's sake - and Ariana Grande's got a right little treat for us in the form of four shiny new festive tunes.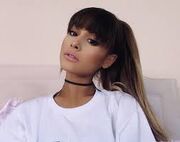 Yep - we've already heard her ridiculously incredible version of Wham!'s Last Christmas, which she chucked online and consequently into our ear canals earlier this week, and now Ari's announced the other tunes we're gonna be having snowball fights, roasting chestnuts and all that malarky to this winter as part of her Christmas Wishes 'project'. Hooray.

While she hasn't recorded Baby, It's Cold Outside with Nathan Sykes (we're never letting that one drop, babes), we can't really complain. Every Tuesday up until the BIG DAY Ariana's releasing a new track to get us in the mood for mince pies and mulled wine. As if we needed an excuse anyway. Here's the SCHEDULE, 'cause we're well organised like that:
Love is Everything (27th November) Snow In California (4th December) Santa Baby (11th December).

What d'ya reckon? Excited to hear the rest of the tunes? Comments please, y'all.
Ariana Grande announces she's releasing new Christmas music including a cover of Wham!'s 'Last Christmas'
Nathan Sykes and Ariana Grande have a coupley moment in the rain out in London - PICS
Ariana Grande's floral tut skirt dress - get the exact look for £45
Ad blocker interference detected!
Wikia is a free-to-use site that makes money from advertising. We have a modified experience for viewers using ad blockers

Wikia is not accessible if you've made further modifications. Remove the custom ad blocker rule(s) and the page will load as expected.