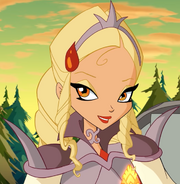 Winx Club is an animated television series, product line, books, clothing, video games, DVDs, and theatrical films, directed, created, and produced by Iginio Straffi and his company Rainbow S.r.l. The series is the first Italian cartoon to be sold in the U.S. The series is aimed toward children between the ages of three and seven. According to Iginio Straffi's website, "Winx Club is an action and fantasy show combined with comedic elements. In the mystical dimension of Magix, three special schools educate modern fairies, ambitious witches and supernatural warriors, and wizards from all over the magical universe."
Ariana Grande voiced a recurring character, Diaspro for four episodes. Liz Gillies has been the voice of Daphne since 2011.
The story follows Bloom and her friends, Stella, Flora, Tecna, Musa, Aisha (Layla), Roxy and is situated mainly in the Magical Dimension and on Earth. They call themselves "The Winx Club" and go on countless adventures together. Throughout the story, they discover new transformations, unlock secrets and powers, battle against the darkness and support Bloom as she tries to discover her past.
"I never knew you could moonlight in your hands, til the night I held you"
To view the Winx Club gallery, click here.
Ad blocker interference detected!
Wikia is a free-to-use site that makes money from advertising. We have a modified experience for viewers using ad blockers

Wikia is not accessible if you've made further modifications. Remove the custom ad blocker rule(s) and the page will load as expected.